Fort Lee, NJ – November 17, 2014 – Couristan, Inc., a leading manufacturer of fine, quality area rugs, residential broadloom and custom contract/hospitality carpeting, is proud to introduce its newest in merchandising, the Purity® Display Unit.
The Purity® brand is Couristan's residential broadloom line consisting of an assortment of 34 eco-friendly carpeting styles and is dedicated to bringing an ecological flooring solution of pure, natural materials to floor coverings. The brand's products are broken down into three Green Designations: Purity® Plus, which uses pure natural materials in all aspects of the carpet, Purity® Select, which features pure, natural materials in the surface pile of the carpeting and Purity® Basics, which is made of natural materials but wool may be dyed and some synthetic materials may be used for the backing.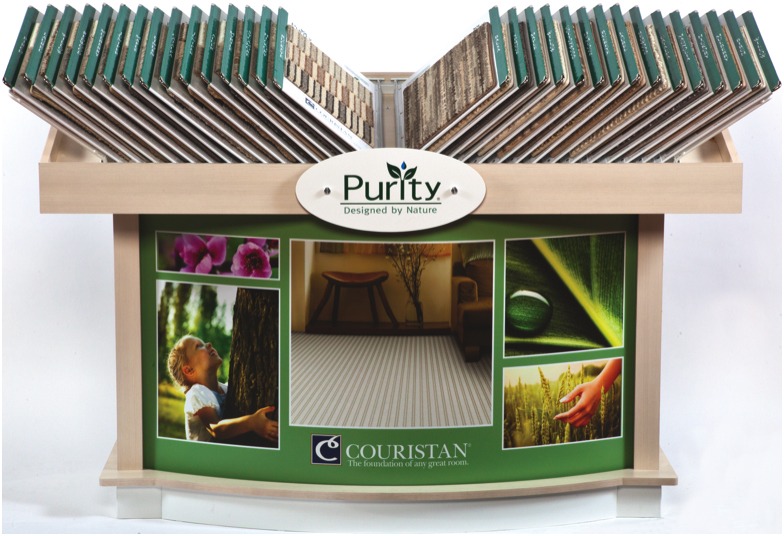 The new display unit features likatre melamine with clean, fresh details throughout its fully-customizable 30-pin frame. Measuring just over 4' high, 6' wide and nearly 2' deep, it is intended to act as a silent salesperson, instantly communicating the superior standards that have been synonymous with Couristan for over 88-years.
Larry Mahurter, Couristan's vice president of marketing/advertising, states, "Our goal is to focus on enriching the brand on every level, including improving the point-of-purchase experience and creatively showcasing the company's innovative, eco-friendly designs. The Purity® display is a modern, space-saving solution that is both striking to the consumer and practical for the retailer."
One of the newest features of the display is a built-in QR code. The QR code links to a video, which provides the user with an overview of the Purity® brand, a description of each of the brand's three Green Designations and fresh patterns featured in room-settings. The display also showcases Purity's storyboard, which brings out the eco-friendly message of the brand through its use of imagery. The pedestal display unit is now available to Couristan merchandisers.
About Couristan, Inc.
Established by the Couri family in 1926, Couristan is the most trusted name in the floor covering industry, offering a vast assortment of exclusively designed power-loomed and handmade area rugs, as well as quality residential broadloom and custom contract carpeting. Couristan is also known throughout the industry as the pioneer in new construction and color techniques, which are used to create exquisitely, designed area rugs and residential broadloom products that are crafted from all over the world. Couristan products are available through department stores, home furnishings catalogs, specialty floor covering, furniture retail stores and major internet accounts. Couristan's global headquarters with full showroom is located in Fort Lee, New Jersey, at Two Executive Drive, 800.223.6186, or visit our website at www.couristan.com